We're Getting Mutants in the MCU - The Loop
Play Sound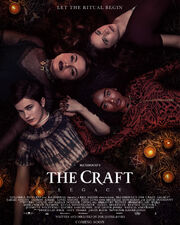 The Craft: Legacy is an American supernatural horror film and a sequel to the 1996 film The Craft. It was first released in the United States through video on demand by Sony Pictures Releasing on October 28, 2020.
The film is written and directed by Zoe Lister-Jones and stars Cailee Spaeny, Gideon Adlon, Lovie Simone, Zoey Luna, Michelle Monaghan, and David Duchovny. Jason Blum served as a producer under his Blumhouse Productions banner.
Premise
Official premise from Blumhouse:
In Blumhouse's continuation of the cult hit The Craft, an eclectic foursome of aspiring teenage witches get more than they bargained for as they lean into their newfound powers.
Plot
Three girls, Frankie, Tabby, and Lourdes try to freeze time with magic but fail to do so as they require a fourth member. Lily Schechner moves into the town with her therapist mother, Helen, to live with Helen's boyfriend Adam Harrison and his three sons. The girls befriend Lily and are amazed when she telekinetically smashes Timmy into the lockers, who was harassing her. When Lily responds to them using only her mind, the girls confirm her to be their fourth member and invites her to join their coven to which she agrees. As a result, they succeed in freezing time.
To seek revenge on Timmy, the girls cast a spell on his pillow. The next day, Timmy behaves sensitively and admits to everyone that he is bisexual. Timmy throws a party and apologizes Lily, eventually becoming friends with her and her friends. When Adam discovers about the incident in school, he scolds Lily but Helen defends her. When Timmy is at Lily's home for doing a project with Jacob, who happens to be Adam's middle child and Timmy's best friend, he admits to the girls that he had sex with Isaiah, Jacob's elder brother. Later, he kisses Lily.
The next morning, Timmy is heard to be found dead, with him allegedly committing suicide. Lily opens up to her friends about her kiss who cut their ties with her and bound themselves from magic. Lily suspects Adam to be dangerous and requests her mother to move out but she doesn't agree. In hopes to find anything against Adam, she searches his office only to find her own adoption papers while Helen admits to her that Lily is actually her patient's child. After Timmy's funeral, Lily finds out Helen to be agreeing to move out. She also admits that she knows about her powers and asks her to give in her powers to her. When Lily suspects her, Helen shapeshifts and turns out to be a masquerade by Adam, who, being part of a pagan cult, has been after her powers since the beginning and knocks her. Lily wakes up in a forest at night with Adam, who confesses that he murdered Timmy and threatens to kill her too. When Timmy contacts Lily's friends and tells them about his murder through an ouija board, they show up to save Lily by time freeze but Adam subdues them in no time. The girls then use their elemental powers and defeat Adam. Helen then takes Lily to meet her birth mother, who is revealed to be Nancy.
Cast
Zoey Luna

as

Lourdes

Gideon Adlon

as

Frankie

Lovie Simone

as

Tabby

David Duchovny

as Adam Harrison

Michelle Monaghan

as Helen Schechner

Nicholas Galitzine

as

Timmy Andrews

Julian Grey

as

Abe Harrison

Charles Vandervaart

as

Jacob Harrison

Donald MacLean Jr.

as

Isaiah Harrison

Hannah Gordon

as

Ashley

Chris Tomasetti

as

Jeremy

James Madge

as

Mr. Bly
Production
In March 2019, it was announced Zoe Lister-Jones would write and direct the film, with Jason Blum serving as a producer, under his Blumhouse Productions banner, with Andrew Fleming from the original film, serving as an executive producer, with Columbia Pictures distributing.[1]
Casting
In June 2019, Cailee Spaeny joined the cast of the film.[2] In September 2019, Gideon Adlon, Lovie Simone, and Zoey Luna joined the cast of the film.[3] In October 2019, Nicholas Galitzine, David Duchovny, Julian Grey, and Michelle Monaghan joined the cast of the film.[4][5][6][7] In November 2019, Donald MacLean Jr. joined the cast of the film.[8]
Filming
Principal photography began in October 2019.[9] During filming in Toronto, director Zoe Lister-Jones explained in an on-set interview that The Craft sequel "... centers on young people, and young women specifically coming into their power in today's current climate..."[10] This interview also confirms the character names of the new Coven.
Music
The film's original music, composed by Heather Christian, was released digitally by Madison Gate Records on October 28, 2020.[11]
Release
The film was released on video on demand by Sony Pictures Releasing on October 28, 2020, followed by a theatrical release internationally.[12][13]
Critical response
According to the website Rotten Tomatoes, 48% of 63 critics gave the film a positive review, with an average rating of 5.54/10. The site's critics consensus reads: "Although director Zoe Lister-Jones has forged a new path for the weirdos of today, The Craft: Legacy's spells may only enchant fans of the original."[14] Kate Erbland, writing for Indiewire, said the film is "an entertaining and insightful mashup of tropes, both respectful of what came before and willing to try new tricks".[15]
Metacritic, which uses a weighted average, assigned the film a score of 55 out of 100 based on 21 critics, indicating "mixed or average reviews."[16]
Gallery
Promotional images
Behind the scenes images
External links
References