WELCOME
Welcome to The Craft Wiki, an encyclopedic resource of everything about the film franchise, The Craft, founded on December 28, 2010! Before editing/communicating, please read our wiki rules.
Please respect all views and all perspectives. This wiki is meant for a better understanding of the films, and for a strong, friendly community. Hateful or vulgar posts against someone or something can and will be removed by the admins. Thank you for reading this notice, please spread the word and keep it nice.
Please help by editing pages and adding information that may be missing, along with adding photos and making this wiki better.
NEW SEQUEL FILM: THE CRAFT: LEGACY!
The Craft: Legacy is an American supernatural horror film and a sequel to the 1996 film The Craft. It was first released in the United States through video on demand by Sony Pictures Releasing on October 28, 2020.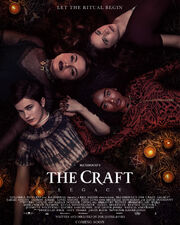 The film is written and directed by
Zoe Lister-Jones
and stars
Cailee Spaeny
,
Gideon Adlon
,
Lovie Simone
,
Zoey Luna
,
Michelle Monaghan
, and
David Duchovny
.
Jason Blum
served as a producer under his Blumhouse Productions banner.
Here is the official premise from Blumhouse:
"In Blumhouse's continuation of the cult hit The Craft, an eclectic foursome of aspiring teenage witches get more than they bargained for as they lean into their newfound powers."
HOCUS FOCUS!
The Craft Wiki is featured in a Halloween-themed editing event! See what you can do to help the wiki by checking out our to-do list:
Create articles related to The Craft: Legacy
New wordmark
New background
Improved navigation
Randomizer
Want to be surprised? Click the "ROLL THE DICE" button to land on a random page that you may have thought that never existed in this wiki before.
Discussions
Do you like The Craft franchise? Do you want to talk about it? Or do you simply want to share some fanart, fanmade videos or other media? Click "JOIN THE DISCUSSION" to talk with the community!